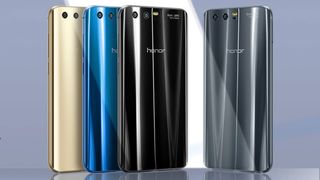 Update: The Honor 9 has officially been announced, even though its US and UK release date remains an open question. We at least know all about its specs.
Like the Honor 8 we liked last year, the new phone will have a reflective body to it, letting light shine off of the back like no other phone you've seen before.
Honor 9 will have a 5.15-inch screen with a Full HD (1080p) resolution, the newer Huawei Kirin 960 octa-core chipset and 6GB of RAM.
It'll come with 64GB of internal storage and can be expanded with another 256GB via a microSD card. The battery size has increased with a 3,200mAh capacity battery.
The Honor 9 camera gives you a pair on the back, with a 12MP + 20MP sensor, plus there's an 8MP front-facing camera.
It launches China first, and while there are no plans to bring it to the US and UK just yet, that could change later this year.
The has only recently launched, yet the next numbered entry in Huawei's spin-off range might be just months away.
Already leaked images are giving us an idea of what to expect, and you'll find them below along with our expert analysis of the latest news.
Below you'll find all the latest news and rumors about Honor's flagship phone, plus we've also included what we'd like to see from the new phone too.
Honor 9 release date and price
Huawei - Honor's parent company - has confirmed the Honor 9 will be launching at an event in Shanghai on June 17. The Honor 8 launched in July 2016, so the flagship Honor is arriving a little bit early this year.
That Berlin event is yet to be confirmed by Huawei, but we'll be sure to update when we hear more from Honor.
As for the price, there's every chance that will be similar to the Honor 8's, putting the Honor 9 at around $399/£369 (roughly AU$530), though that would put it in the slightly odd position of being cheaper than the £474.99 (around $590, AU$770) Honor 8 Pro.
Pre-register for Huawei Honor 9

Honor 9 news and rumors

The Honor 9 may be dropping the 3.5mm headphone jack, so you'll have to use Bluetooth or USB-C connector headsets to listen to audio privately on your phone.

Renders from The Tech Point show the edges of the phone where there's only a USB-C connector and no sign of a physical headphone port.

Another render from The Tech Point and two other images have leaked out showing us the phone from front and back in blue, black and silver.

From these we can see that it's got a similar design to the Honor 8 (though oddly a very different look to the Honor 8 Pro) with a shiny, reflective glass back and likely a metal frame.

Like the Honor 8, there's also a dual-lens camera on the back with a dual-LED flash.

There's no word on what spec it is, but we'd imagine it will at least match the Honor 8's 12MP one and will probably work in the same way, with one color sensor and the other monochrome (black and white), allowing you to combine image data from them both for more light and sharper shots.

The main difference from the Honor 8 comes in the form of the fingerprint scanner, which here is on the front of the phone below the screen, while the Honor 8 had it on the back.

Honor 9: what we want to see

We know what we want to see from the Honor 9 - these five things top our wish list.

1. Better software

However good Huawei and Honor's hardware is it's always slightly let down by the Emotion UI software the company uses.

Its biggest fault is the lack of an app drawer, but it also splits the notification shade in two, to no discernible benefit, and tends to include an abundance of bloat.

We'd love to see all of this fixed for the software's outing on the Honor 9. Or better yet, for Emotion UI to be ditched altogether in place of stock Android, but that's little more than wishful thinking.

2. Optical image stabilization

For an upper mid-range phone the Honor 8 has a strong camera, which stands out through its extra lens, but neither it nor the Honor 8 Pro have optical image stabilization, and adding this would help keep shots smooth and steady.

It's not something we necessarily expect from a mid-range handset, but for the camera to continue to be a key strength of the Honor range it's an addition that would really help.

3. Water resistance

The Honor 9 is expected to follow in the footsteps of the Honor 8 with a shiny, eye-catching glass finish. It's a great look, especially for a phone that's not quite a flagship, but while the looks are sorted the durability could be improved, particularly when it comes to water and dust resistance, as the Honor 8 has none.

We'd like to see some waterproofing added to the Honor 9, especially as this is becoming an increasingly common smartphone feature, though given that even the Huawei P10 doesn't have any we wouldn't hold our breath.

4. Stereo sound

Although the Honor 8 has a decent selection of specs it doesn't have decent sound, with just a single unimpressive speaker.

For the Honor 9 we'd like to see – or hear – stereo sound, from superior speakers, so that media isn't totally reliant on headphones to be enjoyable.

5. A bigger screen

At 5.2 inches the Honor 8 isn't tiny, but it is at the smaller end of screen size now, with even many budget phones packing a 5.5-inch display.

Of course, not everyone wants a huge screen, but pushing the Honor 9 up to around 5.5 inches would keep it manageable, while giving you a bigger canvas to view your apps, games and videos.

The

Huawei P11

is probably in the works too

Zhongshan L.A Display Products Co., Ltd.

ADD: Pansha Industry Zone, Nanlang Town, Zhongshan City, Guangdong Province, China

Contact: Renee chen

WeChat & Mobile Phone: 86-018576207820

Tel: 86-760-23893390

QQ: 2134900198

E-mail: ladisplay@aliyun.com ; renee@la-display.com