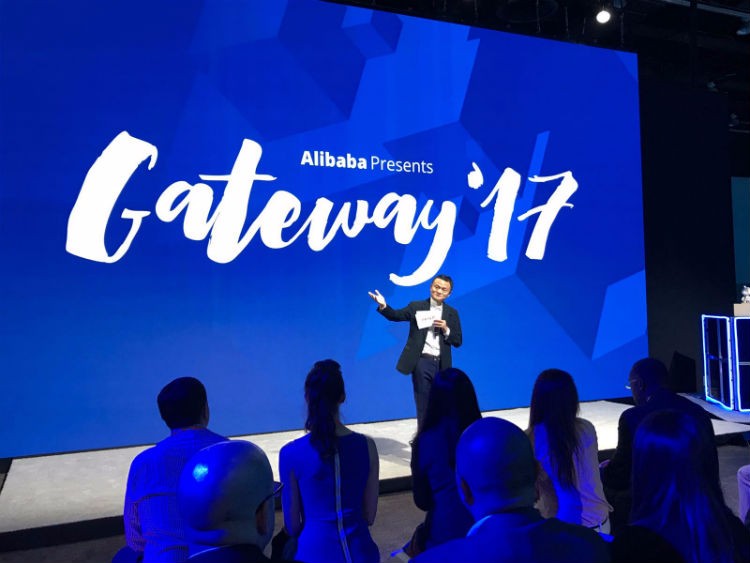 Jack Ma addresses U.S. SMEs at Gateway '17
Alibaba Executive Chairman Jack Ma toured the Gateway '17 Marketplace floors with Executive Vice Chairman Joe Tsai and President Michael Evans. Ma spoke to Alibaba's customers — small businesses who sell everything from ginseng to sneakers to China, or who source materials from China via Alibaba's e-commerce platforms.
Ma later addressed a group of those small businesses, saying the future looks bright for U.S. small enterprises who focus on China, because for "the next 30 years, China domestic consumption will drive the global economy." China's demographics — the country has a middle class of about 300 million, which is set to rise to over 500 million in just a few short years — create tremendous opportunities for companies offering high-quality and a good variety of products.
Jack Ma and U.S. SMEs at Gateway '17
He said he hoped the Gateway '17 conference will be just the first of many to come.
"We want to make sure this is educational," Ma said. "If we do better this year, then we'll do it next year and try to do it every year."
Ma said Alibaba is looking to build up training centers in the U.S. to help the education process of how to effectively sell to Chinese consumers and said the group is working with authorities and partners to help U.S. SMEs. He said Alibaba will also have a bigger presence on the ground in the U.S. to aid those efforts.
Ma said he traveled over 870 hours in the air last year and expects to log another 1,000 this year, all aimed at trying to convince governments that "they should really do something for small business."
He said he'd like to see policies that lower or eliminate tariffs and enable clearance of goods in 24 hours and that he continues to champion the Electronic World Trade Platform — the creation of zones where that kind of frictionless, cross-border electronic trade can take place, enabling small businesses to climb on and reach consumers in other parts of the world.