WeChat pay, pay treasure to cooperate with silicon valley Citcon

time: 2017-10-28 source: http://sh.qihoo.com/pc/detail?url=http%3A%2F%2Fwww
WeChat pay, pay treasure to cooperate with silicon valley Citcon, department of China mobile payment to enter the United States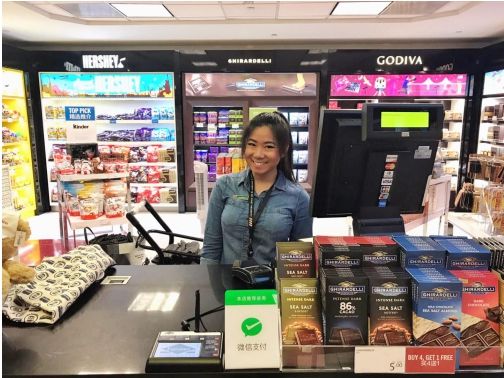 The ancient Chinese sigh, "west out sunlight cause person".Now the Chinese people, they set foot on the American thinks, "is the city through qr code".
The linear distance from Beijing to San Francisco airport nine thousand kilometers of the United States, pay treasure and WeChat payment has launched a few months, catch up with the eleven "golden week" fiery stream of people.National Day for seven days, the San Francisco airport DFS duty-free shops most of the visitors are through WeChat pay and pay treasure to shopping.
This is only to San Francisco.New York, Los Angeles, Boston...Major U.S. cities and attractions, has in most of the years rolled out thousands of receiving WeChat pay and pay treasure to merchants.The huge Chinese market, but also in attracting more and more merchants to embrace Chinese mobile payments - 2016, China's outbound tourism consumption reached level of billions of dollars, and outbound tourism in the whole tourism revenue proportion is rising.
The mighty waves of mobile payment to pay is not only China's two giant for the U.S. market strategic layout, and an important driving force behind the scenes - WeChat pay and pay treasure in the United States the largest partner Citcon.The silicon valley of mobile payment companies to pay treasure and WeChat sea provides the necessary technical solutions and clearing services, in the form of a platform for the first time the two Chinese pay giant services aggregated into a product, and through the precipitation in the United States a large number of brand partners resources, help them quickly opened the north American market.
"To travel from China is already a level of billions of market, tourism industry in the United States attaches great importance to China's consumers, are actively preparing for this market."Wong chun por founder Citcon said to the investment community.
The prepared
DFS airport is only a small part of the "China Ready" agitation.Across the country, many hotels, attractions, outlet, luxury stores, restaurant chains and other Chinese tourists and Chinese concentrated areas, have been deployed Citcon provide solution, used to solve WeChat pay and pay treasure to cross-border mobile payment.
Some of the world's top hotel and retail group, such as the world's most diverse resorts caesars entertainment group, America's second-largest entertainment group, the world's largest travel retailer DFS group, high-end shopping Center in Los Angeles Beverly Center, and the famous American airport retail management group Pacific Gateway and so on.
San Francisco airport DFS's Burberry stores
In the popular tourist area, Chinese tourists can easily use WeChat pays and alipay.As well as domestic, selected goods, merchants can use POS JiSao pay code charge on their phones.In the consumer side, the payment is still WeChat purse or binding of renminbi bank card.
While businesses through Citcon payment system to implement cross-border trading funds liquidation and reconciliation service, receiving is according to the real-time exchange rate of dollars.In addition, Citcon back to merchant provides online solutions, can cover web, app, and the public, small programs.
"For now the luxury retail and travel retail is the main part of growth.Through Citcon provides solutions in detail letter to pay the consumption of different scenarios, we can provide them with smooth shopping experience to Chinese consumers."DFS group of America and the Pacific President Mike Osorio said to reporters.
DFS earlier this year launched WeChat small programs.With this small program, Chinese tourists can reserve goods before arrive at the airport, saved search for goods time, merchants can also have more knowledge of consumer preferences.Since this year, DFS in Chinese tourists gathered in San Francisco airport, T it in the center of Honolulu, Hawaii, and Honolulu international airport launched in succession WeChat payment, and will be by the end of the log in Los Angeles, New York and other major airports.
Boston milk tea shop "sunrise tea too" promotional activities
The wave of China's mobile payment is spread across the country, WeChat with alipay also conveniently launched against China customers and merchants mobile payment of promotional activities.
Since July, as long as consumers use WeChat in merchants pay to checkout, can enjoy discount, top 50 yuan caps.Alipay is given a similar 85 discount, $50 caps too.
Participants is the thousands of offline businesses, including catering, hotel, retail, transportation, entertainment and so on.While large businesses such as Caesar group, DFS, Pacific Gateway and special relief activities.In which owns more than 50 hotels and entertainment facilities, Caesar group as an example, this year began on September 20, all in its merchants use WeChat pay consumers, as long as the shopping full 100 yuan, will be randomly breaks, highest 888 yuan.
Activity in the visitors responded enthusiastically, in addition to this 50 home entertainment facilities, Caesar will also be in November WeChat pay and pay treasure to access its forty restaurants and other businesses.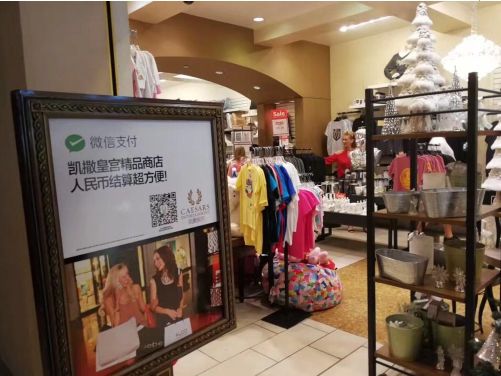 Las Vegas Caesars use stores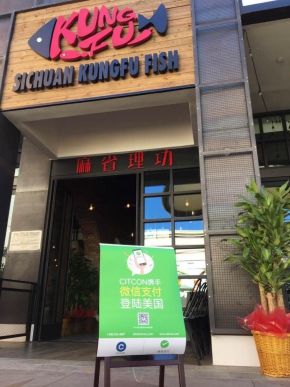 Grilled fish at MIT work shop in Los Angeles
These merchants through Citcon payment scheme and WeChat payments and pay treasure to cooperate, "Citcon pay is a very professional partner.They have a strong technical advantage in the field of cross-border payments, in pay market of China and the United States also have rich experience, to integrate and access from China mobile payment it very smooth."Caesar's entertainment group vice President of the international market Bruce c. Bommarito told reporters.
China's tourism market
Already this year is the fifth consecutive year China remain "the world's largest source of tourists" chair.
According to the world tourism organization report, released in April, 2016, Chinese tourists overseas spending more than $261 billion, up 12% from a year earlier.Second place in the United States is less than half of China's total consumption abroad, the growth rate is four percent lower.
For the United States, on the other hand, the market itself, Chinese visitors both quantity and amount, are very surprising.According to the U.S. department of commerce data, 2016 Chinese tourists to tourism has 13 consecutive years keep rising trend, and Chinese tourists has total spending more than old tourist countries such as Britain, as the first place, the proportion is as high as 61%, which is closer to $33 billion.
"For businesses, the most sensitive is' growth 'in this matter.In recent years, basic all visitors from China merchant's business growth, they will pay more attention to (China)."Wong chun por explained.
In addition, the form of Chinese tourists also in all sorts of change.
First of all, the whole of China for the acceptance of the mobile payment for the world's highest, WeChat users paid more than 900 million people, pay treasure to more than 500 million people.Out of the tourists in a most comfortable in the form of mobile payment already.
Second, China's outbound tourists in 2016, "after 90" has become the main force.According to China's tourism research institute released in October this year, the China outbound tourism development of the annual report 2017, China's outbound tourists in 2016, "90 after" account for more than 30%, is the highest proportion in all ages.
"Before we do the user survey and interview, there was an obvious stronger after 90 s generation of local brands, and more adapt to mobile payments."Wong chun por says.
Chinese consumers of mobile payment and national brand recognition all the way higher, American merchants to the booming Chinese outbound tourism market "lick one's chaps," two phase effect, the army in the face of China's tourism "China ready" agitation to erupt.
And rising number of Chinese to travel, is likely in the future to these American mobile payment enterprises bring great opportunity - in the United States, the most valuable companies are often not those "black" of science and technology enterprises, but like a Stripe of a $9 billion valuation, the market value of $11 billion Square FinTech (financial) of science and technology enterprises.
Cross-border background, pave the road of the sea is a mobile payment in China
By the time, pay treasure and WeChat pay roll out was in thousands of stores in the United States.Wong chun por introduce to the investment community that brings together pay treasure and WeChat Citcon cross-border mobile payment solutions in the United States and overseas market development is rapid, is expected to reach hundreds of millions of dollars worth of water, at the end of the year will be access to more than one in 2018 m merchants.
The sea wind is vigorous, but behind the convenient purchase, is the years of trying and layout.
For most tourists, familiar with the code after the payment to get the corresponding goods, simple and convenient.Merchants and payment businesses, however, is to have more issues to consider.
Pay enterprise to sea, provide overseas payment service is often more difficult -- in the U.S. market, for example, financial regulation is very strict, each state has different policies and regulations, and the entire credit card industry is highly developed market, want to cross-border payment service is faced with quite a high threshold.
And if merchants around the local financial system, with the RMB trading, of course, will be in violation of the local financial and tax regulations.
So payment service from China in the sea, often choose to have qualification, also know to pay market pay local enterprise cooperation.
This is also in the United States market WeChat pay and pay treasure to cooperate with Citcon reasons, which gives them an important American Banks clearing services.It is, therefore, Chinese consumers in the United States use pay treasure and WeChat payment, merchants the deal can be done completely in dollars, in conformity with the us financial system regulatory requirements - quick deal behind, is the use of real-time currency liquidation of domestic Banks.
"Cross-border tourism is one of China's mobile payment into the U.S. market one of the best opportunities."Wong chun por said he graduated from tsinghua, to get a PhD in computer science, in the United States a line to pay companies such as Visa, PayPal worked for ten years, accumulated a lot of technical and business experience in mobile payment.Later, he returned with the partners to create a mobile payment business in Beijing science and technology, as a director and CTO, after the company listed on the new three board, his keen attention to the potential of the mobile payment market in terms of cross-border, in early 2016, moved to the United States.
Citcon company founding team members also are the veteran payment, consumption in the industry of China and the United States - in the Visa's Marketing Department Jiang Wei leadership positions for many years, the leadership of the company and Yelp ten years sales team Ryan Noland, etc.In addition, the consultants Citcon bench and Palantir VP and Google product director Eric Sun Zhuang Rosenblum, former new horizon capital managing partner, former ctrip CTO and eBay technical director Eric Ye sits.
This very familiar with China and the United States pay market team, after Citcon successfully in 2016 and DFS, Caesar group, Pacific airport business group (Pacific Gateway) and so on dozens of large American merchants signed a cooperation agreement.In addition, they also built a large system of partners, including local east west bank, the United States, the largest Chinese bank paid famous solution provider Shift4 etc, can reach more than a total of hundreds of thousands of merchants.
Since then, WeChat payments and pay treasure to north American market, Citcon has received financial licenses and build good partner network, let it hit it off with the two payment giants reached cooperation, also on the impact of the whole wave of mobile payment in North America.
"For a variety of related businesses such as hotel, retail, transport, travel retail market in China is absolutely can't ignore the huge opportunity, ready for China is an inevitable choice.We are not only for those routes, more hope that through the mobile payment to the U.S. market, help the Chinese brand in the international market to further expand the influence."Wong chun por says.
Keywords:
WeChat has Quick Pay, QR Code Payment, In-App Web-based Payment, In-App Payment, to fulfill different payment situation.How to apply for WeChat payment? How to set it up on a Magento, Shopify, WooCommerce or another third-party ecommerce website?
Alipay is China's leading third-party online payment app. Alipay is a super app designed to offer a bouquet of services to bring convenience into your everyday life. Trusted by 450 million users.